Paloma Chen
陈聪慧
Born: Alicante, Spain
Raised: Utiel, Spain
Utiel, Valencia, Spain

For many years until her mid-teens, Paloma wanted nothing to do with her Chinese culture.
Growing up in a small town in Spain, she had no Chinese role models.
Yet, today, she has won a nationwide poetry award for her work that speaks to her Chinese culture.
How did Paloma go from complete blackout to embracing Chinese culture?
The only Chinese to win a national poetry prize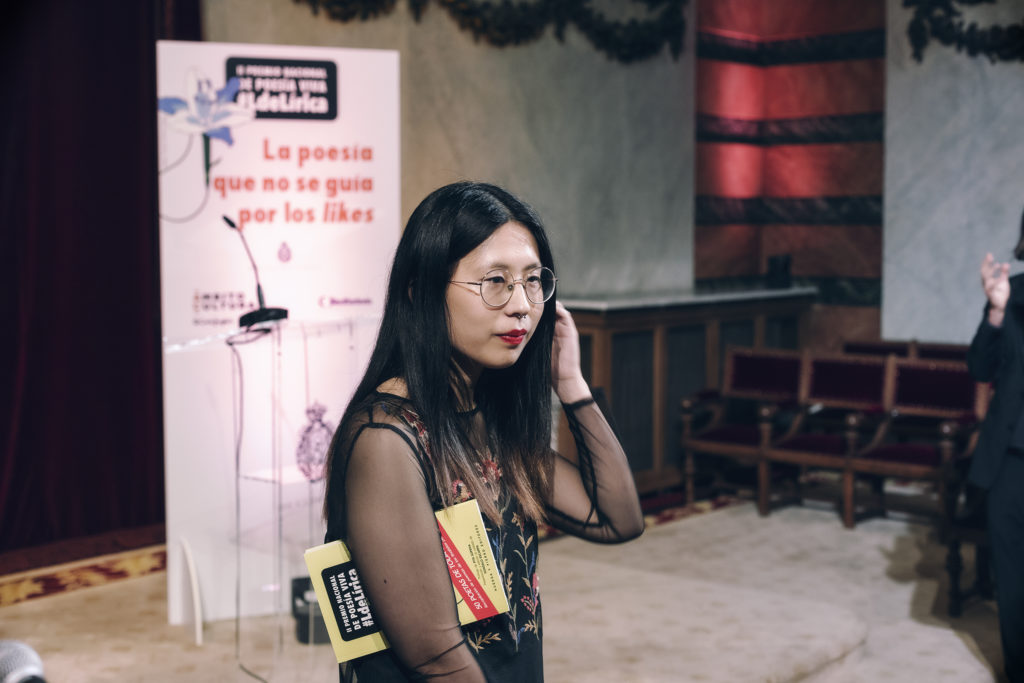 It's impressive.
Paloma won the II Premio Nacional de Poesía Viva. I don't really know how to do justice to the competition's name, but it translates to something like "Second National Prize for Living Poetry". It's "living poetry" because contestants recited their poems aloud, rather than having their work only in print.
If you are good at Spanish, you can listen to her reciting her poem here: https://youtu.be/pK9oPQzGFYk?t=2934
Her poetry focuses on identity, racism, being a racialized person and a migrant, among many things.
me esforcé en

hablar

en la erre

en hablar

correctamente

en blanquear

mi acento

en

dominar las palabras que dominan a mis padres

que son dominados por las palabras que domino

.

(English by me)

I made an effort to speak

the "r"

to speak

correctly

in whitening my accent

to dominate the words that dominate my parents

that are now dominated by the words that I dominate.

Excerpt from Pero Habla – PALOMA CHEN (link)
In one of her poems, she talks about how her growing up in Spain makes her unable to completely connect with her father.
In another, she talks about how she regrets being born in Spain but still feels pidgenholed to doing certain occupations such as running a restaurant or a dollar store.
Paloma's achievement is most distinct because she was the only contestant who was atypical. While there were Spanish contestants and Latin Americans, Paloma said that her being Chinese-Spanish really drew people's attention and that her poetry, being directly associated with her experience as Chinese and Spanish, was a unique theme.
"That completely sets me apart from the typical profile," she said.
Paloma described the competition as one with many rounds of elimination. Contestants went from uploading a video of them reciting their poems on Instagram, then competing in regionals, then national stage to compete.
To have her poetry survive so many rigorous tests is most impressive.
First encounters with Chinese were a bore
Paloma's youth is shared by many Overseas Chinese.
Her parents migrated from Wenzhou in the '90s to Valencia province. They toiled in their restaurants day to night.
They had little time to spend with Paloma and so her elder brother became her teacher of Chinese culture.
"But I didn't like it at all. It was very boring learning to write hanzi (Chinese characters), speaking Chinese," she said. "I never thought I would enjoy it or that it would interest me. I abandoned it when I was nine or 10 years old. I said, 'That's it, no more!' "
What's worse, she grew up in a small town of 12,000. Her parents started a restaurant in Utiel, Valencia because there was less competition among Chinese restaurants.
Utiel didn't have any Chinese schools or a Chinese community where Paloma could find her role models.
Her favourite film was the original Mulan (the animated one, not the Liu Yifei one). But that was the only piece of Chinese culture Paloma encountered.
Banana in Wenzhou, bullying in Utiel
Paloma's parents took her to Wenzhou twice before she turned 10. She hated it because she felt out of place.
"I was with my family and they spoke wenzhouhua (Wenzhou dialect) but when they spoke to me, they spoke putonghua (Mandarin)," she said. "But everyone just considered me a xiangjiaoren (banana; a person who was white inside but Asian on the outside)."
In her hometown, Paloma didn't have any friends.
Paloma's studious and demure personality made her popular among her teachers but a complete target for nastiness among her classmates.
She didn't fit in at her private, religious, middle school which she described as "very racist and very conservative."
"Nobody wanted to be my friend and I felt very lonely," she said, "Bullying, gossip, and because you're different, we're not going to get close to you."
Between the ages of 10 to 15, she had no friends and had completely abandoned any links to Chinese culture.
At 15, a new relationship with China and Chineseness
Summer 2012 came and Paloma left her parents completely mystified one day when she told them she wanted to visit China.
It left them shocked because Paloma had many years blacking out any connection to Chinese culture.
She explained to me that she wanted to visit her relatives and grandparents.
That one month renewed her relationship to her Chinese culture.
"Suddenly in Wenzhou, I liked everything. Rice, meat, everything," she said . "When I returned to Spain, I told myself I wanted to learn Chinese."
A new approach to learning Chinese language
When Paloma visited Wenzhou after seven years of absence, her relatives noted that her Chinese was better when she last visited, at eight years old.
Paloma learned Chinese from her brother when she was younger. Then there was the blackout of Chinese culture.
But when she visited Wenzhou in 2012, her mother signed her up for one-to-one classes with a Chinese teacher.
It made a whole lot of difference.
My brother didn´t really know how to give classes or keep my attention," she said. "But with this teacher would ask me, 'Hey, what do you do in Spain and what music do you like,' "
Her Chinese teacher would share with her the names of Chinese rock bands because she liked rock.
"That's when I discovered that learning Chinese can be fun."
No Chinese role models
So that begs the question. How come Paloma had such a difficult time with being Chinese in her youth?
It turns out that she felt that it came down to not having any role models or references in the small town that she lived in.
Her cousins who grew up in a bigger city, Valencia, had a much better grasp of Chinese because they were able to attend Chinese school.
As the internet matured, YouTube also became an important source of having role models. Paloma named Off the Great Wall, Fung Bros, Steven Lim and other Chinese American YouTube creators. She also really enjoyed Buzzfeed's content about being Chinese American.
"Those videos really changed my life. I mean, to discover that there were people like the Chinese Americans who were doing all of that, who spoke of themselves as American, but also talked a lot about the culture of their parents, the food, the Chinatown in New York. All of that inspired me a lot," she said.
Also around her late teens, Paloma also found other Chinese role models in Spain, naming Susana Ye who published Chiñoles and Bananas on YouTube and Quan Zhou, the illustrator of comic books who has published a few books about being Spanish and Chinese.
Without finding these role models, Paloma said she would have never have felt as proud of her culture.
Finding her place as a Chinese person in the world
I guess I have never seen it this way but Paloma made a good point.
When she was a university student, she spent a year in China as an exchange student.
That really helped her situate her Chinese identity as a huaqiao (Overseas Chinese).
It also helped her understand her parents.
Paloma spent one year in the Shanghai International Studies University to study the Chinese language and culture.
Her classmates were Overseas Chinese from Italy, Japan, Spain, Peru and other countries. That made her realize that there were many Chinese people who were in the same position as her.
"The isolation that I felt of being the only Overseas Chinese in the world ended there. I met people who were in between cultures," she said. "Without doubt, the year that I spent in China helped me to understand better things about my parents, Chinese culture and the current affairs in China."
"It helped me understand [my] position in the world as a person who is in between everything; a bridge between China and Spain.
"It helped me in configuring and understanding my mixed identity, my situation in the world, my ideals and my mission."
Being Chinese in Spain
Hoy conocí a White Guy

Se acercó a mi oído y cantó

你问我爱你有多深

我爱你有几分

…

(English by me)

Today I met White Guy

He came within earshot and sang

你问我爱你有多深

我爱你有几分

Excerpt from Colorblind – PALOMA CHEN (Link)
Paloma eats lunch at 2 p.m. and 9 p.m. It's a very unique Spanish trait.
Unlike her brother or parents, she was born in Spain.
As a result, Paloma has different expectations from her parents.
As she spent time in her parent's restaurant, she often thought that she didn't want to be there.
She didn't want society to pigeonhole her into typical areas of work of Chinese people like restaurants.
"If you leave those boundaries, people get surprised," she said.
Her presence as a competitor at the poetry competition surprised an older Spanish woman which made Paloma feel that society has an impression that Chinese people are one-dimensional people who can only do certain roles.
This motivated her to be an activist. She studied journalism in university because she saw a media landscape that was poorly informed by a parochial vision of the world that can slander Chinese people.
This is an issue that's not far removed from even more progressive nations like Canada, where I live. This article by Christopher Cheung really speaks to that from his perspective as a local reporter of Asian descent.
Ideals for Chinese in Spain
"Spanish people have a lot of wrong ideas and stereotypes about Chinese people," she said.
She'd like Spanish society to see Chinese people as multi-dimensional people.
She'd like to see stereotypes of Chinese people as uncultured, dirty, super studious, dog eaters and all other baseless accusations disappear.
She'd like to see the end of "Chinese people are like that, but you're an exception."
She'd like the end of the siloing of Chinese people and Spanish people."My ideal and my work goes towards ending prejudices, stereotypes towards Chinese people and that we are treated with dignity," she said. "My ideal would be for dialogue, for interaction, and that we could learn from each other."
Links
You can read more of Paloma Chen's work at her poetry website and her personal website.