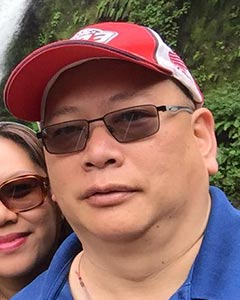 Patrick Yung
容锐深
Born: Port-of-Spain, Trinidad and Tobago
Raised: Port-of-Spain, Trinidad and Tobago
Port-of-Spain, Trinidad and Tobago

It's 2 pm on a Saturday in March.
Patrick Yung is done with work in his arts and crafts store in Port-of-Spain, Trinidad and Tobago. He calls his business a "mini-Michaels." Nothing as big as the arts and craft store in Canada, because the small population in Trinidad doesn't allow for it.
Patrick was born in 1965 in Trinidad, which marked a time of great change at the end of empires for British colonies as they abandoned the Union Jack for their own flags.
Where Patrick's parents were born, it was revolution after revolution. Another era of great change was going to start as the '60s ushered in the Cultural Revolution.
The 1960s was also marked by another revolution in the Anglosphere: the Civil Rights Movement in America. In Trinidad, there was the Black Power Revolution.
In an era of revolution, Patrick was born half a revolution from China.
Patrick's paternal grandparents died very young and as a result, his father inherited a lot of land and gold. When 1949 came, he became the target of the new Communist government in Mainland China.
He had to escape.
Patrick estimates that his father went to Trinidad in 1950 or 1951, and already had a child, Patrick's brother. He nickname was "the communist child."
Whereas for Patrick, born 17 years after his brother in Trinidad, got the nickname "the freedom child." The gap between the two siblings' birth is best explained by Patrick's mother's arrival in Trinidad in 1964. Meaning, Patrick's parents endured a separation spanning beyond a decade.
His peers would pick on him because he was Chinese, and they would make appointments to have a "fight-off."
Chinese Trinidadian who grew up in the ghetto
Patrick lends a perspective to this blog that I haven't captured. The oldest person I have written so far is 45, while the youngest is in her 20s (I didn't ask exactly).
Patrick is in his fifties and that really makes me appreciate that he has a much larger perspective as to how it's like being Chinese Trinidadian over time.
Patrick also seemed to have grown up in a bit of a harder circumstance than half of the people I interviewed. He described where he grew up as a "semi-ghetto area."
"I basically still live and grew up in the ghetto," he said. "And it's just that as I get older, everyone knows me. But if there's a foreigner or a white or a strange Chinese walking in my area, they might look to rob them."
He still lives above the grocery store which his parents used to own.
Appointments to fight classmates on Fridays
Chinese people number less than a hundredth of the population in Trinidad. Today, there are about 4,000 in a country of 1.3 million.
Patrick believes that being Chinese Trinidadian is living life on hard mode, and his appointments every Friday in elementary school elucidates his point.
When he went to public school, he said that out of 500 students, there would only be two Chinese students.
"I mean fist-to-fist fight. People who wanted to bully me, I'd say, 'Come, you want to bully me, call me names, let's go and battle it out and that's how I grew up fist-fighting for the first six to seven years in school.' "
Restless in school, unrest outside of school
Outside of school, Patrick also experienced a period of heightened unrest where he experienced looting, arson and destruction of Chinese businesses.
He said that it also marked a period of emigration from Trinidad for most Chinese people that could afford it.
"Within the 1970s, they all left … besides a few local people like us who couldn't afford to migrate in those days," he said.
More hardship as an adult
Patrick doesn't feel that being Chinese gives him any advantages. At best, he said Chinese people enjoy "equal opportunity rights."
"You have to work harder than everybody else and you have to remember that once you work hard and people notice you work hard, you also have to be mindful that you're a target for bandits," he said.
He pointed to Port-of-Spain's Chinatown on Charlotte Street where Chinese businesses work 8-8, open on Sundays and "stay in their store … 24/7."
"They would stick to the store, especially in Charlotte Street, because of the rampant shoplifting and theft in that street," he said.
Some North American Chinese parents would also send their kids to Chinese school on the weekend so they could learn Chinese, but in Trinidad, there's no such opportunity, given that there's no Chinese school.
Patrick learned Cantonese from his grandparents and parents, but can't write Chinese. He said that most Chinese people of his generation and before his generation are likely only to be able to speak English.
A Chinese wife to deal with the rigours of work
"Although I had a lot of girlfriends, I had to settle along with a Chinese person," Patrick said.
Patrick mentioned that this is rare in Trinidad as most of his Chinese peers have found partners who are from other ethnic groups.
His wife is a Cantonese-speaking woman from China who migrated to Trinidad when she was 11.
"I know that a Chinese woman would be hardworking and when you think about the future, and they will be willing to make sacrifices and without my wife, I don't think I would have a sizable industry like I do right now."
And thus, the couple started a restaurant, but decided they didn't like it and moved into the arts and craft industry where their first store was 200 square foot. They now operate a few branches and own the property in which these branches are housed.
Volunteering at the Chinese Association
One hour has passed in our interview and Patrick is headed to his next appointment at the Chinese Association meant for locally-born Chinese Trinidadians.
They are trying to raise money to rebuild the association's building because the building is getting old and run-down. They need about US $1 million to rebuild the 75-year-old building.
The market sells painting, crochet, jewelry, Chinese food and vegetables. It might be comparable to a farmer's market or a night market in Taiwan. Small entrepreneurs can rent a stall for US $50.
"It's the food, especially the wanton and the chicken chow mein fried rice, that moves a lot," he said.
Patrick does pandemic safety compliance including temperature checks, sanitation and registrations.
Patrick volunteers in other Chinese associations, including the second vice-president in a Chung Shan Association and committee member in China Society. As a Cantonese speaker, he also helps new immigrants from China who speak Cantonese with translations.
Patrick's son lives near me
Patrick's son was born in Trinidad, the second generation of born-and-bred Chinese Trinidadians after Patrick himself.
His son has travelled to China and Patrick said he learned Chinese from his and his wife's parents (the son's grandparents). Patrick also said his son has adopted Chinese customs.
He wanted his son to study in England, but his son liked Vancouver, so Patrick bought a house in Abbotsford, B.C. (about 60 kilometres from Vancouver) and his son went to the University of the Fraser Valley in that city.
On the one hand, Patrick's motivations for sending his son overseas came down to the difficulties that he experienced in Trinidad.
At the same time, Patrick wanted his son to experience the world and experience different types of lifestyles. To Patrick, his son's migration is just a continuation of his family's pattern of migration over 200 years. Their extended family is spread in places as far as Hawaii, Germany, England, Peru and Guatemala.
"I just wanted to give each generation a chance to be able to live a different life. Wherever opportunity exists, take the opportunity. And you don't have to force [it]. If you don't like the country, you don't have to be there," he said.